Nectarine

Platform - AMIGA-MOD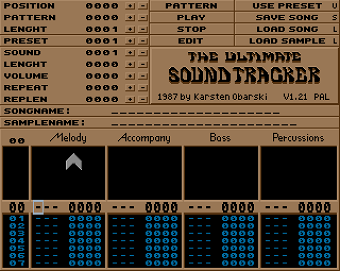 Amiga MODule (4, 8, multichannel) format
---
MOD is a computer file format used primarily to represent music, and was the first module file format. MOD files use the ".MOD" file extension, except on the Amiga which doesn't rely on filename extensions, instead it reads a file's header to determine filetype. A MOD file contains a set of instruments in the form of samples, a number of patterns indicating how and when the samples are to be played, and a list of what patterns to play in what order.
The first version of the format was created by Karsten Obarski for use in the Ultimate Soundtracker; tracker software released for the Amiga computer in 1987. The format has since been supported by hundreds of playback programs and dozens of other trackers.
The original version of the MOD format featured four channels of simultaneous audio playback, corresponding to the capabilities of the original Amiga chipset, and up to 15 instruments.
Later variations of the format have extended this to up to 32 channels and 31 instruments.
The format was designed to be directly playable on the Amiga without additional processing: for example, samples are stored in 8-bit PCM format ready to be played on the Amiga DACs, and pattern data is not packed. Playback required very little CPU time on an Amiga, and many games used MOD files for their background music.
After the Amiga's production ceased, the MOD format has had continued popularity in the Demoscene and as background music for independent video games and Chiptunes. It is not uncommon to hear MOD music in keygens either.
Songs
| Song Title | Artist | Song Length | Status | Vote | Queue | Last Request |
| --- | --- | --- | --- | --- | --- | --- |
| !bao!bao! | Maf (Benoît Charcosset) | 2:42 | Active | 3.8 | | 2023-09-20 |
| "Happy" New Year | PazuR/Colidace (Piotr Gotowicz) | 7:09 | Active | 2.6 | | 2023-04-17 |
| "Zampai!" said Ash. | Cutcreator (Allan Abildgaard Kirkeby) | 3:53 | Active * | 3.1 | | 2022-11-12 |
| #666 | Trump (Rolf G. Lunde) | 1:45 | Active | 2.7 | | 2023-01-25 |
| (Chip)-evermore | Timmy [NO] (Anders Ormehaug) | 3:05 | Active | 3.5 | | 2023-07-14 |
| (Elvira)catacombs | Dave Hasler | 2:45 | Rejected * | 5.0 | | |
| (q)uelled Rebellion | MC Jazz (Atte Tynys) | 9:19 | Active | 2.4 | | 2023-04-16 |
| *Generation CompoED | Danko (Tomas Danko) , dLx (Joakim Falk) , Firefox (Jimmy Fredriksson) , Proper Disco (Christian Björkander, Karl Svegare, Mattias Brian) | 4:07 | Active | 4.4 | | 2023-09-27 |
| - | Tommy [de] (Thomas Jännicke) | 3:09 | Active | 2.7 | | 2021-11-21 |
| -your-face-... | Bass (Patrick Lindsey) | 2:50 | Rejected * | | | |
| 003 | Esau (David Enheden) Traktor | 3:49 | Active | 3.1 | | 2022-06-22 |
| 004 | Scott (Trond Christer Berg) | 1:49 | Active * | 3.6 | | 2023-07-03 |
| 00Enjoy | Jogeir (Jogeir Liljedahl) | 0:51 | Active * | 3.5 | | 2023-04-02 |
| 00noname | Jogeir (Jogeir Liljedahl) | 1:47 | Active | 3.9 | | 2023-08-01 |
| 1 | Accel (Alexander Craxton) | 2:33 | Active * | 3.2 | | 2022-11-11 |
| 1 | Uncle Tom (Tomas Dahlgren) | 1:37 | Active * | 3.9 | | 2023-08-04 |
| 1 | Feinbein | 2:07 | Active | 3.2 | | 2023-06-10 |
| 1 Gig Per Byte | Corwin (Simon Woodington) Trideja | 1:48 | Active * | 1.8 | | 2021-03-29 |
| 1 in a Million Bobs | Subi (Sam Brown) | 2:34 | Active | 3.7 | | 2023-06-27 |
| 1 Minute Dead Waltz | u4ia (Jim Young) | 1:00 | Active | 2.1 | | 2022-12-22 |
| 1 Step A-Head | Ache (Jens Säterö) , NRG (Jonas Andersson) | 3:30 | Active | 3.3 | | 2023-09-14 |
| 1 Step Further | Jogeir (Jogeir Liljedahl) | 3:37 | Rejected | 4.0 | | 2014-10-29 |
| 1. Adventtisunnuntai | Buzzer (Mikko Hyyti) , Yzi (Yrjö Fager) | 2:52 | Active * | 3.8 | | 2022-12-25 |
| 1.11 Loadersong | SLL (Sten Lysholm Larsen) | 2:49 | Active | 3.9 | | 2023-08-11 |
| 10 Feet Away | Dr. Awesome (Bjørn Lynne) | 1:59 | Active | 3.4 | | 2023-06-17 |
| 10 muzak | Gladiator (Hans Arild Runde) | 2:22 | Active | 3.6 | | 2023-04-12 |
| 100 Yard Dash | Dr. Awesome (Bjørn Lynne) | 4:19 | Active | 3.7 | | 2023-03-22 |
| 100% Speedmetal | Junior (Trond Kvale) | 2:05 | Active * | 1.6 | | 2022-11-30 |
| 100-Travel (Teamwork) | Archangel [NO] (Ronny Nilsen) , Christian Mæland | 3:47 | Active * | 3.5 | | 2023-08-17 |
| 1001 Nights | Chromag | 1:58 | Active | 2.9 | | 2023-09-13 |
| 100hz | The Undertaker (Mario de Meyer) | 3:39 | Active | 1.4 | | 2023-09-14 |
| 1081 - Speaker Buster | Walkman (Tor Bernhard Gausen) | 3:56 | Active | 2.9 | | 2023-04-27 |
| 10kBlur | DeathJester (Joey Jaime) | 1:01 | Active * | 2.0 | | 2021-11-02 |
| 11 Notes on Sand | Heatbeat (Aleksi Eeben) Carillon | 2:41 | Active | 4.5 | | 2023-09-23 |
| 11.1 | Dr. Awesome (Bjørn Lynne) | 2:42 | Active | 2.8 | | 2023-03-05 |
| 11l.kintro#3.short | Lizardking (Gustaf Grefberg) | 0:43 | Active * | 3.5 | | 2023-09-07 |
| 11th Hour | TDK (Mark Alan Knight) | 4:18 | Active * | 3.3 | | 2023-03-15 |
| 12 Bars - All Closed | Triace (Roland Voss) Desire , Insane | 3:20 | Active | 3.2 | | 2023-06-11 |
| 123 Introjee | Muffler (Konsta Mikkonen) | 1:48 | Active * | 2.7 | | 2023-08-18 |
| 128 Beats Great | Watchman (Markku Mäki) | 1:46 | Active * | 2.3 | | 2023-05-18 |
| 128 State | JLD (Johan Danielsson) | 5:25 | Active * | 3.8 | | 2023-02-18 |
| 12th Warrior | Dr. Awesome (Bjørn Lynne) Crusaders | 4:15 | Active | 4.4 | | 2023-09-11 |
| 13th Dimension | Shinobi (Marcus Andre Rousseau) | 3:07 | Active | 3.7 | | 2023-09-01 |
| 13th friday 95 | Bartesek (Bartosz Niedzwiecki) | 4:09 | Active | 3.4 | | 2019-10-05 |
| 13th of Friday | X-Ceed (Wojciech Panufnik) Appendix | 1:24 | Active | 3.1 | | 2023-06-09 |
| 15k Boogie | u4ia (Jim Young) | 2:30 | Active | 3.6 | | 2023-08-22 |
| 17.mai | Naturd (Kim Rasmussen) | 1:13 | Active | 3.7 | | 2023-08-20 |
| 19 Wind Blown Leavz | Reflex (Frédéric Cordier) | 2:00 | Active * | 4.0 | | 2023-07-10 |
| 1942 | Lizardking (Gustaf Grefberg) , Some1 (Mikael Fyrek) | 0:52 | Active | 3.5 | | 2023-09-26 |
| 1960's | Spirit (Jonathan Scarliffe) | 9:32 | Active | 3.1 | | 2023-02-25 |
| 1989 a Number | Romeo Knight (Eike Steffen) Red Sector Inc. [RSI] | 4:18 | Active | 4.4 | | 2023-09-25 |
| 1989 ei kule | Time Traveller (Geir Rune Ladehaug) | 3:15 | Active | 3.5 | | 2023-08-22 |
| 1990 | Horace Wimp (Fredrik Skogh) | 1:48 | Active | 4.1 | | 2023-08-12 |
| 1992 | Randy64 (Clifford Wetterlund) Hoaxers , Insane | 2:14 | Active * | 2.8 | | 2023-07-13 |
| 1992 | Grim (Jussi Ruokolainen) | 3:12 | Active | 3.5 | | 2023-08-20 |
| 1992 | u4ia (Jim Young) | 7:08 | Active | 3.1 | | 2023-09-19 |
| 1992 | Maktone (Martin Nordell) | 2:31 | Active | 4.2 | | 2023-07-28 |
| 1992 | Danko (Tomas Danko) , Jogeir (Jogeir Liljedahl) Fairlight [FLT] , Maniacs of Noise | 4:06 | Active | 3.9 | | 2023-07-08 |
| 1993 | Lizardking (Gustaf Grefberg) | 3:30 | Active * | 3.4 | | 2022-12-30 |
| 1993 | u4ia (Jim Young) | 8:50 | Active | 3.5 | | 2023-09-06 |
| 1993 Called - Rejected | Virgill (Jochen Feldkötter) Alcatraz , Haujobb | 2:49 | Active * | 3.7 | | 2023-09-27 |
| 1994 | u4ia (Jim Young) | 9:12 | Active | 3.0 | | 2023-06-20 |
| 1995: The Rift | Corwin (Simon Woodington) Trideja | 5:05 | Active * | 2.1 | | 2022-12-04 |
| 1997: Darken Heart | Corwin (Simon Woodington) Trideja | 8:06 | Active | 2.9 | | 2023-05-31 |
| 1998: Sailor Rifts | Corwin (Simon Woodington) Trideja | 14:33 | Inactive | 2.4 | | 2023-08-09 |
| 19ktune | Nuke (Martin Iveson) | 2:10 | Active * | 4.1 | | 2023-09-17 |
| 1love | Strobo (Niko Nyman) | 3:04 | Active | 2.6 | | 2021-08-06 |
| 1st Synthetic | Random Voice (Edvin Fladen) | 1:34 | Active | 3.3 | | 2023-08-14 |
| 1st Theme of Gwerk | Jayce (Jürgen Rotscheidt) | 1:12 | Active | 3.3 | | 2023-03-25 |
| 2 B Played Once | Gladiator (Hans Arild Runde) IT | 3:47 | Active | 3.2 | | 2023-04-19 |
| 2 Break | Cybernaut (Teemu Isoniemi) | 1:45 | Active * | 2.3 | | 2023-05-10 |
| 2 Channels | Dr. Awesome (Bjørn Lynne) | 2:38 | Active | 3.6 | | 2023-08-18 |
| 2 good 2 be true | Moby (Frédéric Motte) | 10:30 | Active | 3.9 | | 2023-09-20 |
| 2 Happy 2 Care | mAZE (Stian Gudbrandsen) Desire | 2:11 | Active | 2.7 | | 2022-07-14 |
| 2 Hard 4 U | Alf (Johan Koskela) | 6:36 | Active * | 2.6 | | 2023-02-16 |
| 2 Legit 2 Quit | Darkstar (Daniel Pohlenz) | 3:02 | Active * | 3.4 | | 2022-01-26 |
| 2 Steps Right | Jason (Kim Morten Jensen) | 2:44 | Active * | 4.3 | | 2023-09-22 |
| 2-Sided ST-01 Disk | DJ Joge (Jouko Karhula) | 4:42 | Active * | 3.7 | | 2023-07-01 |
| 2. Desert Division | Pacman (Michael) | 2:52 | Active * | 2.3 | | 2023-05-08 |
| 2000 | Stamen | 5:02 | Active | 3.7 | | 2023-09-19 |
| 2000AD Cracktro 01 | Maktone (Martin Nordell) | 1:44 | Active | 4.1 | | 2023-09-15 |
| 2000AD Cracktro 02 | Maktone (Martin Nordell) | 1:20 | Active | 3.9 | | 2023-09-11 |
| 2000AD Cracktro 03 | Maktone (Martin Nordell) | 1:20 | Active | 3.8 | | 2023-08-13 |
| 2000AD Cracktro 04 | Maktone (Martin Nordell) | 1:05 | Active | 4.2 | | 2023-09-01 |
| 200kb From Heaven | DJ Joge (Jouko Karhula) Brainstorm | 6:10 | Dupe | 5.0 | | |
| 200kb From Heaven | DJ Joge (Jouko Karhula) Brainstorm | 6:06 | Active * | 4.1 | | 2023-08-16 |
| 2010 Survival | Trixal (Jostein Dahl Gjelsvik) , Vortex (Oddgeir Hvidsten) Cryptoburners | 6:52 | Active * | 3.3 | | 2022-09-17 |
| 205 Soul Street | The Weasel (Morten Rasmussen) | 3:00 | Active | 3.1 | | 2023-08-06 |
| 21 Jump-Up Street | h0ffman (Ian Ford) , tEiS (Craig Bynum) | 3:22 | Active | 3.8 | | 2023-04-20 |
| 210 Degrees | Maniac (Samuel Adolfsson) | 2:31 | Active | 3.5 | | 2023-09-20 |
| 21212121211 | Subi (Sam Brown) | 4:41 | Active * | 2.7 | | 2022-11-09 |
| 22k | Subject (Kristoffer Schultz) Balance | 1:16 | Active * | 3.6 | | 2023-02-28 |
| 24000 Miles | Hollywood (Simon Carless) , Hunz (Johannes Van Vliet) | 5:45 | Active | 3.6 | | 2023-02-28 |
| 2400N Counting | 911 (Martyn Deykers) | 0:38 | Active * | 2.9 | | 2022-10-23 |
| 242 | Papa Smurf (Kari Kuusela) Fairlight [FLT] , Virtual Dreams | 2:51 | Active * | 3.5 | | 2023-07-30 |
| 242dezmix | Dezecrator (Markus Meriläinen) | 2:20 | Active * | 2.8 | | 2023-07-17 |
| 244 dl 77 | Fajser (Henrik Sundberg) | 3:44 | Active * | 3.4 | | 2023-01-17 |
| 25 Years Later | WOTW (Elef Tsiroudis) | 2:02 | Active * | 2.7 | | 2023-03-27 |
| 25 Years Later.. | CS-Jay (Christian Steen Jensen) Desire | 3:25 | Active | 3.6 | | 2023-07-30 |
| 25k House | cTrix (Chris Mylrea) | 2:52 | Active | 3.4 | | 2023-04-09 |
| 26 Letters | Vesuri (Vesa Halttunen) | 3:33 | Active * | 1.5 | | 2023-09-01 |
| 2998z | Muffler (Konsta Mikkonen) | 3:12 | Active | 2.9 | | 2023-09-22 |
| 2contr0l | EC-Rider Alcatraz | 2:46 | Active | 1.7 | | 2022-01-10 |
| 2Cute4U | Aquafresh (Simon Bostock) | 1:30 | Active * | 2.8 | | 2023-05-19 |
| 2fast4u | Nutcase (Sami Saarnio) | 1:09 | Active * | 3.2 | | 2022-02-03 |
| 2gether with Tarzan | Muffler (Konsta Mikkonen) | 4:02 | Active * | 1.9 | | 2023-04-14 |
| 2muchpressureremix | Maniac (Samuel Adolfsson) | 1:00 | Active | 3.9 | | 2022-07-05 |
| 2nd Dream | Djamm (Reynald Deliens) | 2:49 | Active * | 2.9 | | 2023-06-25 |
| 2nd Step | Chromag | 2:20 | Active * | 3.9 | | 2023-05-22 |
| 2nd Theme of Gwerk | Jayce (Jürgen Rotscheidt) | 1:49 | Active | 2.6 | | 2021-03-06 |
| 2nd Wave | Wasp (Alex Löfgren) Pacific | 4:31 | Active * | 4.2 | | 2023-08-12 |
| 2nd-Tech | Centrox (Ralf Claußen) | 1:46 | Active * | 2.0 | | 2022-11-26 |
| 3 | Unknown | 1:49 | Rejected * | | | |
| 3 Cnl Background | Dr. Awesome (Bjørn Lynne) | 2:00 | Active | 3.4 | | 2023-05-07 |
| 3 Edges | Tr/\sH (Jase L. Chong) | 8:01 | Active | 2.6 | | 2022-11-05 |
| 3 fat guitars | Randall (Kenneth Juneheim) | 6:12 | Active | 2.5 | | 2023-05-08 |
| 3 Kwartjes | Hein Design (Hein Holt) , Rick (Rick Hoekman) | 1:29 | Active * | 3.0 | | 2023-07-12 |
| 3 Minutes | Ganja (Markus Castrén) Nerve Axis | 3:08 | Active | 3.5 | | 2023-08-16 |
| 3 Minutes of a Life | Mittag Leffler (Johan Alfredsson) | 2:33 | Active | 2.8 | | 2023-08-27 |
| 3 New Strings | Gladiator (Hans Arild Runde) | 6:57 | Active | 3.2 | | 2022-10-23 |
| 3 Techno Pieces | Tonedeaf (Jussi Kärkkäinen) Extreme | 4:43 | Active * | 2.6 | | 2022-11-12 |
| 3 y's | Johan Alpmar | 2:42 | Active * | 2.1 | | 2023-08-28 |
| 3-voice sperm 2 | Mantronix (Martin Wall) , Tip (Robert Österbergh) | 2:42 | Active * | 3.8 | | 2022-10-06 |
| 30 Millions d'amis | Bosco (Philippe Devauvre) | 1:44 | Active | 2.5 | | 2023-03-26 |
| 3000 Years Ago | Revisq (Patryk Gegniewicz) | 4:08 | Active * | 3.7 | | 2023-06-25 |
| 3006 Chip Odeyssey | Revisq (Patryk Gegniewicz) | 2:46 | Active * | 1.7 | | 2021-05-28 |
| 38.7 Degrees | Tip (Robert Österbergh) | 3:29 | Active * | 3.7 | | 2023-04-01 |
| 3d demo | GTS (Gottfried Schneider) | 4:44 | Active * | 3.1 | | 2023-05-11 |
| 3D Demo 1 | Mad Freak (Martin Schiøler) Anarchy | 3:29 | Active | 4.6 | | 2023-09-26 |
| 3D Demo 2 | Julius (Martin Schiøler) Anarchy | 2:45 | Active * | 4.0 | | 2023-09-23 |
| 3D Paradise [insideout endtune] | Scorpik (Adam Skorupa) | 1:30 | Active * | 4.3 | | 2023-09-20 |
| 3D Paradise [insideout main] | Scorpik (Adam Skorupa) | 4:29 | Active | 3.6 | | 2023-09-27 |
| 3rd World | Johan Alpmar | 3:51 | Active | 3.1 | | 2022-09-12 |
| 3Ways | PazuR/Colidace (Piotr Gotowicz) | 12:24 | Active * | 2.8 | | 2021-01-26 |
| 4 Days and 1 Bread | Strobo (Niko Nyman) | 3:01 | Active | 4.3 | | 2023-04-25 |
| 4 Elise | Lawbreaker (Arne Barlund) Addict (Amiga) | 2:56 | Active | 3.0 | | 2023-07-31 |
| 4 The Headstrong | u4ia (Jim Young) | 4:28 | Active | 2.1 | | 2022-06-29 |
| 4-ever Young | Coma (Daniel Johansson) | 2:37 | Active * | 3.7 | | 2023-03-06 |
| 404 Crew Returns | Bonefish (Vlado Banda) , Mygg | 4:06 | Active | 3.2 | | 2023-06-24 |
| 40k Intro | Chromag Dual Crew & Shining | 1:24 | Active * | 3.6 | | 2023-09-16 |
| 40k Intro's Short | Chromag | 0:38 | Active * | 3.3 | | 2022-12-19 |
| 40k-Trackmo End | Beathoven [Infect] (Michael Scheuch) Infinity | 2:09 | Active | 2.3 | | 2023-02-24 |
| 46k Gabberrr | 911 (Martyn Deykers) , SuperNao (Michiel Krop) | 2:54 | Active * | 3.0 | | 2021-04-03 |
| 48 tpi | ATL (Martin Dakhli) | 3:54 | Dupe | 3.7 | | 2019-08-07 |
| 48 TPI | The Fox (Christian Blaha) Vacuum [VAC] | 4:00 | Active * | 3.8 | | 2023-09-16 |
| 4aces-high | Romeo Knight (Eike Steffen) | 2:20 | Active | 4.0 | | 2023-08-13 |
| 4k0 | Chromag | 1:37 | Active * | 3.2 | | 2023-09-12 |
| 5 Myror | Loxley (Johan Svensson) | 1:05 | Active * | 2.9 | | 2023-03-26 |
| 5 Steps | Vinnie (Pål Granum) Spaceballs | 4:01 | Active * | 3.6 | | 2023-05-08 |
| 500 Amigas en el Club | Juzdie (Jussi Hannula) | 4:02 | Active | 3.2 | | 2023-04-08 |
| 5518 ii | Fajser (Henrik Sundberg) Rage | 4:03 | Active | 3.3 | | 2023-03-14 |
| 5K Reese (Announcetro 2) | h0ffman (Ian Ford) Focus Design | 2:03 | Active | 3.4 | | 2022-07-25 |
| 5th Dynasty | Airworx | 3:10 | Active * | 2.1 | | 2023-07-05 |
| 60's | Audiomonster (Raphaël Gesqua) | 0:32 | Active * | 1.7 | | 2023-07-20 |
| 60's Surprise | Accord (Patrick Johansson) , Deelite (Henrik Bertilsson) | 1:42 | Active * | 3.8 | | 2023-05-22 |
| 64 Mix II | Matt Furniss | 2:59 | Active | 3.9 | | 2023-09-17 |
| 6581 Wildwestworld | Jazz (Kai Fischer) | 1:01 | Active * | 3.5 | | 2023-08-01 |
| 6581+1 != 6582 | Dustbin (Stefano Palmonari) | 3:48 | Active | 3.4 | | 2023-07-26 |
| 663482 | Cerror (Roel Heerspink) | 1:55 | Active | 4.2 | | 2023-03-19 |
| 68000 Guru Music | Heatbeat (Aleksi Eeben) Carillon | 6:20 | Active | 3.5 | | 2023-01-23 |
| 69kb Bag of Tricks | DJ Joge (Jouko Karhula) Brainstorm | 3:35 | Active | 4.0 | | 2023-07-28 |
| 6a | Tommy [de] (Thomas Jännicke) | 2:30 | Active | 3.2 | | 2023-06-29 |
| 6beat | 4-mat (Matthew Simmonds) Anarchy | 3:12 | Active | 3.6 | | 2023-05-03 |
| 6Helix | Teel | 3:42 | Active * | 2.0 | | 2023-09-24 |
| 7 | Karsten Obarski | 7:48 | Active | 3.2 | | 2023-09-22 |
| 7-Eleven-Theme | Gore (Toni Kurkimäki) Zenon | 3:56 | Active * | 3.2 | | 2023-04-24 |
| 70's Alabi | Nuke (Martin Iveson) | 2:58 | Active | 3.4 | | 2023-07-07 |
| 70's Shake! | BIT | 1:40 | Active * | 2.9 | | 2021-07-05 |
| 70s Reprise | Audiomonster (Raphaël Gesqua) | 1:51 | Active * | 3.2 | | 2022-11-12 |
| 76 4 an explain v2 | Mindfuck (Laurent Roux) | 9:47 | Active * | 3.8 | | 2023-02-20 |
| 7th Heaven | DJ Joge (Jouko Karhula) | 10:28 | Active * | 4.3 | | 2023-09-26 |
| 7th Seal - 7th Sign | X-Ceed (Wojciech Panufnik) | 3:40 | Active * | 3.3 | | 2023-01-16 |
| 7th Season | Buzzer (Mikko Hyyti) | 4:00 | Active * | 4.0 | | 2023-09-25 |
| 7up | Yzi (Yrjö Fager) | 2:11 | Active * | 2.9 | | 2023-01-29 |
| 8088 MPH (Credits) | coda (Ken Snyder) CRTC , Desire , Hornet | 1:45 | Active | 3.7 | | 2023-08-16 |
| 80megamix | Goto80 (Anders Carlsson) | 2:39 | Active * | 3.7 | | 2023-09-01 |
| 80s | Strobo (Niko Nyman) | 2:45 | Active * | 3.0 | | 2023-06-09 |
| 88 Funky Avenue | Moby (Frédéric Motte) | 3:06 | Active * | 4.3 | | 2023-09-21 |
| 9 Silk-blue nuns | Cutcreator (Allan Abildgaard Kirkeby) | 1:53 | Active * | 2.8 | | 2023-07-05 |
| 99000MHz | Dune (Lassi Nikko) | 3:24 | Active * | 2.8 | | 2023-03-18 |
| <m> the abyss | Matrix | 5:01 | Active * | 3.1 | | 2022-05-15 |
| A Badger's Tale | Jerry (Stig Rune Frydenlund) | 4:07 | Active | 3.5 | | 2023-01-04 |
| A Better Love | Maxsoft (Marcin Michalski) | 2:46 | Active * | 2.7 | | 2023-09-13 |
| A Better Way | Peter Salomonsen Pure Metal Coders | 2:51 | Active | 4.0 | | 2023-08-24 |
| A Call Today | Clawz (Mathieu Berthaud) | 2:25 | Active * | 3.7 | | 2023-07-25 |
| A City at Night | 4-mat (Matthew Simmonds) | 11:44 | Active | 4.0 | | 2023-09-23 |
| A Common Threat | Romeo Knight (Eike Steffen) | 1:55 | Active | 3.8 | | 2023-05-23 |
| A Day in Calcutta | Absys (Frédéric Bellec) | 3:51 | Active * | 2.9 | | 2023-08-23 |
| A Drop of Blue | | 1:42 | Dupe * | 3.9 | | 2012-09-08 |
| A Drop of Blue | Nuke (Martin Iveson) Melon Dezign | 1:39 | Active * | 4.1 | | 2023-09-27 |
| A February Symphony | Jester (Volker Tripp) | 2:33 | Active | 3.5 | | 2022-09-01 |
| A Few Chords | Vinnie (Pål Granum) | 2:48 | Active * | 3.6 | | 2023-09-20 |
| A Final Hyperbase - Enigma (aka Musiklinjen) | Firefox (Jimmy Fredriksson) , Tip (Robert Österbergh) Phenomena | 5:35 | Active | 4.8 | | 2023-09-05 |
| A Friend has Died | Scorpik (Adam Skorupa) Absolute! | 4:39 | Active * | 4.1 | | 2023-09-26 |
| A Fucking Chiptune | Typhoon (Håvard Tørå Olsen) Avalon | 2:33 | Active * | 3.2 | | 2023-08-14 |
| A Game of Fun | Vedder (Johan Letfors) | 2:04 | Active | 2.9 | | 2023-09-20 |
| A Godless Gospel | Azazel (Markus Alakangas) | 0:45 | Active * | 2.6 | | 2022-12-04 |
| A Group is Dead | EMI (Ronny H. Hollevik) | 4:17 | Active | 3.4 | | 2023-03-30 |
| A Hard Day's Knight | Dusty (US) (Justin M. Carpenter) | 2:48 | Active * | 2.5 | | 2023-07-10 |
| A Hiscore | Jesper Kyd | 1:02 | Active | 3.4 | | 2023-06-06 |
| A Hymn to Bacchus | serpent (Touko Väre) | 1:50 | Active | 3.0 | | 2023-06-23 |
| A Jazz Hellagroove | Mortimer Twang (Lukas Nystrand) | 5:03 | Active * | 2.9 | | 2022-10-11 |
| A Joint u4ia Smoked | u4ia (Jim Young) | 6:20 | Active | 2.5 | | 2023-07-19 |
| A Kind of Love | Chromag | 3:18 | Active * | 2.5 | | 2022-08-25 |
| A King is Born | Dreamweaver (Per Wahlström) Aurora | 4:44 | Active | 4.3 | | 2023-08-14 |
| A Light In The Dark | Dynamic (Martin Collin) | 2:35 | Active * | 3.9 | | 2023-07-20 |
| A Long Goodbye | Technix (Christopher Bell) | 1:40 | Active * | 4.2 | | 2023-09-28 |
| A Magic Touch | Jogeir (Jogeir Liljedahl) | 2:52 | Active * | 4.0 | | 2023-09-22 |
| A Miniority | Horace Wimp (Fredrik Skogh) | 2:10 | Active * | 4.0 | | 2023-02-18 |
| A Moment | Heatbeat (Aleksi Eeben) | 0:29 | Active * | 3.0 | | 2023-05-13 |
| A Mon Poussin | Absys (Frédéric Bellec) | 4:29 | Active * | 2.3 | | 2023-09-18 |
| A Monster is Loose | Tip (Robert Österbergh) | 3:13 | Active * | 3.4 | | 2023-09-28 |
| A Naff Song | TDK (Mark Alan Knight) | 2:38 | Active * | 3.4 | | 2022-05-10 |
| A New Day | LKA (Lars Kristian Aasbrenn) Twilight Zone | 2:46 | Active | 3.3 | | 2021-11-21 |
| A New Jack Thing | Kookai (Yann Parmentier) | 2:29 | Active * | 3.2 | | 2022-09-27 |
| A New King Is Born | Estrayk (Carlos del Alamo) | 1:57 | Active | 3.4 | | 2023-06-03 |
| A New Point of View | Gladiator (Hans Arild Runde) | 3:59 | Active | 2.9 | | 2023-04-20 |
| A New Saturn Day | Redribbon (Guillaume Romero) | 6:31 | Active | 2.7 | | 2023-08-27 |
| A New Way to Jazz | Blue Silence (Christophe Cassier) | 2:33 | Active | 3.6 | | 2023-05-09 |
| A Nice Day | Peter Salomonsen | 1:37 | Active * | 3.6 | | 2023-09-25 |
| A nice dream | Naturd (Kim Rasmussen) | 2:31 | Removed By Request | 2.7 | | 2023-04-30 |
| A Night at the Bar | Virgill (Jochen Feldkötter) | 2:30 | Active | 4.0 | | 2023-08-12 |
| A Night in Tunesia | The Weasel (Morten Rasmussen) | 3:05 | Active * | 3.2 | | 2023-08-20 |
| A Perfect Life | Silize (Lucas Rodríguez Ureña) | 4:38 | Active * | 3.3 | | 2022-11-11 |
| A Piece of Magic | Lizardking (Gustaf Grefberg) | 4:21 | Active | 3.7 | | 2023-05-06 |
| A Piece of Magic 2 | Lizardking (Gustaf Grefberg) | 5:34 | Active | 3.9 | | 2023-04-01 |
| A Piece of Magicmix | Lizardking (Gustaf Grefberg) | 7:41 | Active | 4.2 | | 2023-09-13 |
| A Place I Know | Dr. Awesome (Bjørn Lynne) | 3:31 | Active | 2.6 | | 2022-11-30 |
| A Place on Earth? | BC (Ørjan Hojem) | 4:20 | Active * | 2.1 | | 2023-03-11 |
| A Place to Hide | Mystra (Kjell Pedersen) | 2:45 | Active | 3.5 | | 2023-09-01 |
| A Planet Asleep... | Alpa (Christian Björkander) | 3:39 | Active | 4.0 | | 2023-08-21 |
| A Question of Time | Fleshbrain (Seppo Hurme) | 4:38 | Active | 3.5 | | 2023-08-30 |
| A Race Against Time | SMT (Sascha Michael Theel) | 2:58 | Active * | 4.0 | | 2023-08-02 |
| A Real Chippy One | Dusty (US) (Justin M. Carpenter) | 2:01 | Active * | 3.1 | | 2023-07-05 |
| A Rocktale | 16 Beat (Joachim Soppe) | 3:49 | Active * | 3.7 | | 2023-09-29 |
| A Sad Fly In a Jar of Jam | Kiwi (Janne Kivilahti) | 3:13 | Rejected | | | |
| A Shade in Waiting | Fash (Johan Persson) | 4:54 | Active * | 4.0 | | 2023-07-09 |
| A Shade of Blue | Gore (Toni Kurkimäki) Zenon | 4:41 | Active * | 3.0 | | 2022-12-17 |
| A Silent Move | Omega (Per Karehed) | 3:06 | Active * | 3.3 | | 2023-01-18 |
| A Sip of Mississippi | Mystra (Kjell Pedersen) | 2:42 | Active | 3.9 | | 2023-05-07 |
| A Sixth Sense | Tecon (Per Arne Kristiansen) | 4:02 | Active * | 3.6 | | 2023-09-11 |
| A Solid Breakfast | Walkman (Tor Bernhard Gausen) | 2:28 | Active | 3.2 | | 2023-01-14 |
| A Song to Sonia | Audiomonster (Raphaël Gesqua) | 5:37 | Active * | 3.6 | | 2023-09-13 |
| A Source of Light | Dustbin (Stefano Palmonari) | 3:32 | Active * | 3.5 | | 2021-10-02 |
| A Space Journey | Nao (Michiel Krop) | 1:26 | Active * | 4.0 | | 2023-09-20 |
| A Spark in My Heart | Unison (fr) (Sébastien Gallot) | 3:15 | Active * | 3.5 | | 2023-03-12 |
| A Square Wave Story | Alex Menchi (Alexandre Maillet) | 2:14 | Active | 3.0 | | 2023-09-11 |
| A Symphony in Red | Azazel (Markus Alakangas) | 1:25 | Active * | 2.8 | | 2023-04-12 |
| A Synoptic Value | Jogeir (Jogeir Liljedahl) | 5:55 | Active * | 3.7 | | 2023-02-17 |
| A Touch of Green | DeLorean (Sakari Hannula) Complex | 4:02 | Active * | 3.7 | | 2023-08-31 |
| A Touch of Hope | Estrayk (Carlos del Alamo) | 5:24 | Active | 2.8 | | 2023-04-05 |
| A Train to Circus | Jazzcat (Piotr Pacyna) | 2:56 | Active * | 3.1 | | 2023-04-02 |
| A Travel in My Mind | Chrylian (Cyril Jegot) | 3:37 | Active | 3.6 | | 2023-07-05 |
| A Trip to Funkyland | Shun (Franck Amoros) | 3:17 | Active * | 3.4 | | 2023-08-21 |
| A Twin Love | Corwin (Simon Woodington) Trideja | 3:50 | Active * | 2.9 | | 2022-02-16 |
| A Twin Love | Corwin (Simon Woodington) | 3:50 | Rejected * | 3.0 | | |
| Å Vinne i Kabal | Mystra (Kjell Pedersen) | 1:46 | Active | 3.6 | | 2023-06-02 |
| A Wait for a Funk | Chrylian (Cyril Jegot) | 3:08 | Active | 3.9 | | 2023-09-13 |
| A Way to Freedom | Lizardking (Gustaf Grefberg) | 9:07 | Active | 3.7 | | 2023-06-12 |
| A Weak Mind | Maktone (Martin Nordell) | 0:47 | Active * | 2.9 | | 2022-11-05 |
| A Winner's Tip | Jerry (Stig Rune Frydenlund) | 1:20 | Active * | 3.0 | | 2020-05-24 |
| A World in a Nut | Azazel (Markus Alakangas) | 2:52 | Active * | 3.3 | | 2022-07-20 |
| a-fast+louder | Tommy [de] (Thomas Jännicke) | 3:53 | Active * | 3.2 | | 2022-05-04 |
| a-ha Shines on TV | Bernard Sumner (Phil Bak) | 2:31 | Active | 3.5 | | 2023-08-15 |
| a-suxbeir | Siracon (Anders Johansson) | 2:24 | Active * | 3.1 | | 2023-01-10 |
| A10 | 4-mat (Matthew Simmonds) | 0:46 | Active * | 4.0 | | 2023-09-01 |
| Aaamiigaah Style | Triace (Roland Voss) | 3:44 | Active * | 2.6 | | 2022-12-01 |
| Aandaorsyrodinon | Subi (Sam Brown) | 5:49 | Active * | 2.8 | | 2023-09-26 |
| aapo ta. nephew.jol | Jol005x (Janne Leinonen) | 3:31 | Active | 2.9 | | 2023-09-21 |
| Aardvark Goes Mad | Aardvark (Brian Handscomb) | 3:44 | Active * | 2.5 | | 2023-04-09 |
| Abacab | Dr. Awesome (Bjørn Lynne) | 6:30 | Active | 3.1 | | 2023-01-09 |
| Abandon crack01 | Megawatt | 1:37 | Active * | 4.1 | | 2023-09-19 |
| Abbreviation Nation | Wasp (Alex Löfgren) Pacific , Powerline | 3:13 | Active * | 4.0 | | 2023-08-17 |
| Abidjahn tata le na | Heatbeat (Aleksi Eeben) | 1:12 | Active * | 2.7 | | 2023-06-04 |
| Abient 1.1 | Scorpik (Adam Skorupa) | 3:17 | Active * | 3.0 | | 2022-10-31 |
| Abiturientti | Groo (Sami O. Järvinen) CNCD | 3:34 | Rejected | | | |
| Ablib O Mintooz | Topaz (Tommi Auvinen) | 1:06 | Active | 2.8 | | 2023-03-23 |
| Abning & Genluk | Dolphin (Anders Ramsay) , Marius , Vain (Mattias Näslund) | 1:44 | Active * | 3.4 | | 2023-06-08 |
| Abnormality | Jerry (Stig Rune Frydenlund) Rebels [RBS] | 1:11 | Active * | 3.6 | | 2023-09-14 |
| Above Ground | Maruku Buranu (Marc Brown) MegaWatts | 6:15 | Active * | 3.7 | | 2023-02-18 |
| Above My Head | 4-mat (Matthew Simmonds) | 1:57 | Active | 3.2 | | 2021-11-28 |
| Abra 1 | Jogeir (Jogeir Liljedahl) | 1:40 | Active * | 3.5 | | 2023-09-17 |
| Abracadabra | Nightbeat (Carl Larsson) | 1:55 | Active * | 3.5 | | 2023-02-26 |
| Abration | Jogeir (Jogeir Liljedahl) | 4:45 | Active | 4.0 | | 2023-03-25 |
| Abridge | Kaktus (Anders Berkeman) , Mahoney (Pex Tufvesson) | 4:25 | Active | 3.8 | | 2023-09-13 |
| Absence of Pink | Monty (Benjamin Pagès) | 10:03 | Active * | 3.6 | | 2023-09-17 |
| Absence Packintro | Mr. Man (Ronny Nordeide) | 0:46 | Active * | 3.6 | | 2023-09-14 |
| Absolute Muzak 2 | Hobbes (Mats Lundqvist) | 4:22 | Active * | 2.5 | | 2023-05-24 |
| Absolute Nirvana | mAZE (Stian Gudbrandsen) | 5:28 | Active | 3.1 | | 2021-10-17 |
| Absolutely Ultrasonic | Jerry (Stig Rune Frydenlund) Rebels [RBS] | 2:15 | Active * | 2.1 | | 2023-07-31 |
| Abstracted | Elf (Sven-Erik Ceedigh) | 8:24 | Active | 3.6 | | 2023-04-17 |
| Abstractions | Heatbeat (Aleksi Eeben) | 1:55 | Active | 3.2 | | 2022-01-20 |
| Abulation des bla | Leon | 0:46 | Active | 3.3 | | 2023-07-31 |
| Abuser Friendly | Subi (Sam Brown) | 5:27 | Active | 2.6 | | 2023-09-09 |
| Abyss | Chromag Dual Crew & Shining | 2:19 | Active * | 4.0 | | 2023-09-01 |
| Abyss | Ripguy (Chris Corrado) RISK | 3:24 | Active * | 3.6 | | 2023-06-09 |
| Abyss | Revisq (Patryk Gegniewicz) | 4:42 | Active | 3.3 | | 2023-09-07 |
| Access for Heaven | Chrylian (Cyril Jegot) | 2:21 | Active * | 4.2 | | 2023-08-29 |
| Access the Mind | Randall (Kenneth Juneheim) | 4:08 | Active | 2.7 | | 2022-09-22 |
| Accession crack 02 | Larza | 1:01 | Active * | 3.6 | | 2023-06-10 |
| Accession Crack 03 | Larza | 1:20 | Active | 2.7 | | 2023-09-02 |
| Ace of Bass | DJ Joge (Jouko Karhula) | 4:06 | Active * | 3.7 | | 2023-08-04 |
| Acen! | Randall (Kenneth Juneheim) | 4:16 | Active * | 2.3 | | 2023-09-07 |
| Acephale | Reverse (Sébastien Atoch) Digital | 3:44 | Active * | 3.4 | | 2023-05-23 |
| Aces High | BKH (Georges Mairet-Coello) , NHP (Nicolas Louis Vuillier) Scoopex | 4:15 | Active * | 4.3 | | 2023-09-07 |
| Ach Watlief | Hein Design (Hein Holt) | 2:40 | Active | 2.7 | | 2023-02-05 |
| Acid 2 | TAR (Torsten Burock) | 0:45 | Active * | 1.9 | | 2023-03-30 |
| Acid Banana | Cab | 4:13 | Active | 1.4 | | 2023-08-19 |
| Acid II | Lizardking (Gustaf Grefberg) | 1:42 | Active | 1.3 | | 2023-09-17 |
| Acid Jazz | Acen (Olaf Hilgenfeld) | 2:00 | Active * | 3.8 | | 2023-08-08 |
| Acid Jazz | Nuke (Martin Iveson) Anarchy | 4:10 | Active * | 3.7 | | 2023-03-03 |
| Acid Jazz (Part 1) | Nuke (Martin Iveson) | 3:32 | Active * | 3.6 | | 2023-09-28 |
| Acid Jazz (Part 2) | Nuke (Martin Iveson) | 2:51 | Active * | 3.8 | | 2023-09-28 |
| Acid Panik Mix | Jack (Oliver Acker) | 5:22 | Inactive | 1.6 | | 2015-05-28 |
| Acid Phase | Thunder | 9:06 | Active | 1.7 | | 2023-02-09 |
| Acid Pop | Pink (Manfred Linzner) | 2:33 | Active * | 4.2 | | 2023-08-23 |
| Acid Rave 3 | Scorpik (Adam Skorupa) | 2:33 | Active * | 2.2 | | 2022-01-27 |
| Acidbat2 (Batman - The Caped Crusader) | Keith Tinman | 2:30 | Active * | 2.7 | | 2023-08-13 |
| Acidcandle | Melwyn (Matti T. Palosuo) | 4:27 | Active * | 2.8 | | 2022-11-11 |
| Acidhouse | Jack (Oliver Acker) | 3:12 | Active * | 2.7 | | 2023-06-23 |
| Acidi2 | Muffler (Konsta Mikkonen) | 2:10 | Active | 3.2 | | 2022-07-23 |
| Acidic Aftertaste | Echo (Graham Gray) | 1:02 | Active * | 2.2 | | 2023-02-08 |
| Acidic Lampshade | TDK (Mark Alan Knight) | 3:19 | Active * | 3.1 | | 2023-04-15 |
| Acidity | Mem'O'Ree (Gregory Engelhardt) | 1:04 | Active * | 3.2 | | 2023-07-23 |
| Acidjazzed Evening | Tempest (Janne Suni) Damage [DMG] | 3:12 | Active | 4.6 | | 2023-09-28 |
| Acidofil | Jazze (Jasmin Topalovic) | 4:03 | Active * | 1.8 | | 2023-04-19 |
| Acidus Funkjazzum | Jukebox (NO) (Preben Soot) | 1:40 | Active * | 3.5 | | 2023-05-25 |
| Aciiid | Jesper Kyd | 4:08 | Active * | 2.4 | | 2023-05-07 |
| Aciiiiid | Dr. Awesome (Bjørn Lynne) | 2:18 | Active | 2.5 | | 2023-09-26 |
| Acillatem Paxtune 1 | Timmy [NO] (Anders Ormehaug) | 2:14 | Active | 3.9 | | 2023-04-11 |
| Ackerlight 1 (aka "NewFred") | Fred (Frédéric Hahn) | 1:47 | Active | 3.8 | | 2023-09-28 |
| Acmedia | Reflex (Frédéric Cordier) | 1:22 | Active * | 3.7 | | 2023-08-12 |
| Acoustic | Mantronix (Martin Wall) | 2:50 | Active * | 3.5 | | 2022-11-25 |
| Acquiring The Taste | Tempest (Janne Suni) Fairlight [FLT] | 1:39 | Active * | 2.5 | | 2023-02-17 |
| Act of Impulse | Mantronix (Martin Wall) , Tip (Robert Österbergh) Phenomena | 4:29 | Active | 4.3 | | 2023-08-07 |
| Actinide Surfer | Doh (Nicolas Desessart) Dark Demon | 6:40 | Active | 4.3 | | 2023-09-09 |
| Action | Othon Armada , Armada (Amiga) | 4:46 | Active * | 3.6 | | 2023-07-31 |
| Action on a Street | Dezecrator (Markus Meriläinen) | 3:03 | Active * | 2.6 | | 2023-04-29 |
| Action's Batman (Batman Vuelve Part 2) | DJ Uno (José Antonio Arrain) Batman Group | 5:35 | Active * | 3.2 | | 2023-09-05 |
| Action-1(s1) | Heatbeat (Aleksi Eeben) | 1:57 | Active * | 4.0 | | 2023-03-26 |
| Action-themes | Timmy [NO] (Anders Ormehaug) | 1:28 | Active * | 2.9 | | 2023-06-30 |
| Actionamics-theme | Romeo Knight (Eike Steffen) | 5:09 | Active | 3.6 | | 2023-08-06 |
| Actionlamics (Dyna Blaster Endtitle) | Romeo Knight (Eike Steffen) | 4:36 | Active | 4.3 | | 2023-09-25 |
| Activate | Digit (Johnny Gustavsson) | 2:08 | Active * | 2.4 | | 2023-02-18 |
| Activity | XTD (Piotr Bendyk) | 2:27 | Active * | 4.0 | | 2023-08-04 |
| Actual Reality | Dynamic (Martin Collin) | 2:26 | Active * | 3.1 | | 2022-01-13 |
| Actual Reality | Christian Mæland | 1:59 | Active | 3.9 | | 2023-07-20 |
| Ad #2 for Musique | Excellence in Art (Per Almered) | 2:54 | Active * | 3.4 | | 2023-08-16 |
| Addicted to You | WouterVL (Wouter van Leeuwen) | 3:19 | Rejected | | | |
| Addiction | Bug (Stein Erik Giske) , Jogeir (Jogeir Liljedahl) Noiseless | 4:51 | Active | 4.1 | | 2023-09-27 |
| Addiction | Jason (Kim Morten Jensen) | 1:48 | Active | 3.9 | | 2023-07-19 |
| Ado Ellenora | Unknown | 3:53 | Active | 3.8 | | 2023-08-03 |
| Adore Your Emulator | GSC | 4:05 | Active | 2.2 | | 2022-12-13 |
| Adrenochrome | Super Action 80 (Sven Thönnißen) | 5:05 | Active | 3.3 | | 2023-05-20 |
| Adrift in Space | Okeanos (Olivier Degand) The Electronic Knights [TEK] | 3:22 | Active | 3.8 | | 2023-09-10 |
| adsr - the dub | Dreamfish (Ian Ford) | 5:00 | Dupe | 3.0 | | |
| Adult | Corrosion (Patrizio Casalengo) | 5:57 | Rejected | 2.5 | | 2019-02-25 |
| Adults | h0ffman (Ian Ford) | 5:12 | Active | 2.7 | | 2023-05-20 |
| Advanced | Estrayk (Carlos del Alamo) | 2:13 | Active | 2.2 | | 2023-05-12 |
| Advanced Tactical Fighter II | Rogue Male (Kevin Collier) | 3:46 | Active * | 3.1 | | 2023-01-07 |
| Adventure in Bag | Deejay | 2:41 | Active * | 3.5 | | 2023-03-29 |
| Aegwynn | Shinobi (Marcus Andre Rousseau) | 1:14 | Active | 3.0 | | 2022-04-07 |
| Aenoida Phase 1 | Djamm (Reynald Deliens) | 2:09 | Active * | 2.8 | | 2022-09-14 |
| Aerial Bondage Club | Dascon (Bernd Hoffmann) | 3:11 | Active | 3.0 | | 2022-02-02 |
| Aerodrome | 16 Beat (Joachim Soppe) | 2:16 | Active | 4.0 | | 2023-09-25 |
| Aetsch | Chromag | 0:55 | Active * | 2.8 | | 2021-05-29 |
| Aevias | DeathJester (Joey Jaime) | 5:23 | Active * | 3.5 | | 2023-02-06 |
| Affair | Allister Brimble | 1:15 | Active * | 3.1 | | 2023-09-01 |
| Affinity | Timelord (Robert Gergely) | 5:01 | Active * | 3.4 | | 2023-02-01 |
| Aflight Remix | Estrayk (Carlos del Alamo) | 3:42 | Active | 3.5 | | 2023-06-25 |
| Afloat | Ukulele (Markku A. Leinonen) | 3:01 | Active | 3.8 | | 2023-03-06 |
| Aflrhythm | Homicide (Marco Schindler) | 1:03 | Active * | 2.1 | | 2021-01-04 |
| Afraid to Shoot Strangers | Esau (David Enheden) | 5:40 | Active * | 4.0 | | 2023-09-12 |
| Africa | Deelite (Henrik Bertilsson) | 2:05 | Active * | 3.1 | | 2023-03-29 |
| African Dreams | Laxity [Kefrens] (Anders E. Hansen) Kefrens | 3:21 | Active * | 3.7 | | 2023-08-11 |
| African Farm | SLL (Sten Lysholm Larsen) Kefrens | 3:14 | Active | 3.4 | | 2022-09-06 |
| African Night | Naturd (Kim Rasmussen) | 1:49 | Active | 3.3 | | 2022-11-29 |
| Africana | DJ Joge (Jouko Karhula) | 1:16 | Active * | 3.2 | | 2023-04-07 |
| Afro on the Loose | Brainbug (Rainer Nilsen) | 2:59 | Active * | 3.2 | | 2023-03-29 |
| Afrodite | Cutcreator (Allan Abildgaard Kirkeby) | 3:50 | Active * | 3.2 | | 2023-06-01 |
| Afrodite | Spiral (Mats Antonsson) | 2:40 | Active * | 3.1 | | 2023-04-29 |
| After | Corrosion (Patrizio Casalengo) | 4:59 | Active * | 1.8 | | 2023-08-08 |
| After All | Accord [pl] (Marcin Gackowski) | 1:59 | Active * | 2.8 | | 2023-05-28 |
| After Eight | Reflect (Yngve Dalland) | 1:37 | Active | 3.8 | | 2023-04-17 |
| After Hours | The Weasel (Morten Rasmussen) | 3:14 | Active * | 3.7 | | 2023-07-10 |
| After Midnight | Accord (Patrick Johansson) , Deelite (Henrik Bertilsson) | 2:27 | Active | 3.7 | | 2023-06-17 |
| After Smoking | Phantom Lord (Dmitriy Selin) Accept Corp. | 3:31 | Active | 4.0 | | 2023-09-27 |
| After the New Sea | Blue Silence (Christophe Cassier) | 3:13 | Active * | 3.2 | | 2022-12-07 |
| After the Rain | Twister (Carl Joakim Ulfeldt) | 3:07 | Active * | 2.6 | | 2022-10-22 |
| After the War | Lord Performer (Michael Lauer) | 2:49 | Active | 1.4 | | 2023-08-27 |
| After Time | Kane Wood (Sébastien Hanel) | 2:12 | Active * | 3.5 | | 2021-11-04 |
| Afterglow | Dr. Awesome (Bjørn Lynne) | 3:29 | Active * | 2.6 | | 2022-07-27 |
| Afternoon | Unison (dk) (Nicklas Schmidt) | 2:19 | Active * | 3.5 | | 2023-04-21 |
| Afternoon Adventure | GTO (Stefan Reisch) | 4:27 | Active * | 3.7 | | 2023-09-25 |
| Afternoon Voyage | Pink (Manfred Linzner) | 1:19 | Active | 4.3 | | 2023-08-24 |
| Afternoon Voyage II | Pink (Manfred Linzner) | 1:27 | Active * | 4.2 | | 2023-04-23 |
| Aftertouch | Substance (Joonas Vähämäki) | 4:22 | Active | 3.6 | | 2023-06-13 |
| Agadoo | Bernard Sumner (Phil Bak) | 0:44 | Active | 2.3 | | 2023-02-28 |
| Against Time | Maestro (Martin de Agger) Arcane | 2:10 | Active * | 3.4 | | 2023-07-06 |
| Against Time | Lizardking (Gustaf Grefberg) | 2:11 | Active | 4.2 | | 2023-09-28 |
| Age Of Tantrum | Yolk (Mikko Karvonen) | 3:19 | Active * | 2.9 | | 2022-09-11 |
| Age of Time | Dezecrator (Markus Meriläinen) | 3:04 | Active * | 2.6 | | 2022-11-28 |
| Agenda 22 | 911 (Martyn Deykers) | 1:16 | Active * | 2.4 | | 2022-07-23 |
| Agent | Phantom Lord (Dmitriy Selin) Accept Corp. | 2:22 | Active | 4.5 | | 2023-09-28 |
| Agent Glitch | h0ffman (Ian Ford) | 1:58 | Active | 3.2 | | 2022-06-13 |
| Aggression #1 | Dr. Bully (Trond Erlend Brattvoll) | 3:48 | Active | 3.4 | | 2022-11-19 |
| Aglow | | 3:19 | Dupe * | 4.8 | | 2011-11-05 |
| Agnostic | Oxide (FI) (Olli Kuopila) | 0:49 | Active * | 3.3 | | 2022-02-16 |
| Agonomicle 1.2 | Muffler (Konsta Mikkonen) | 1:13 | Active | 2.8 | | 2023-07-08 |
| Agony (High Score) | Tim Wright | 1:55 | Active * | 2.3 | | 2023-04-05 |
| Agony (Title) | Tim Wright | 4:19 | Active * | 3.5 | | 2023-08-01 |
| Agony Highlands 2 | 4-mat (Matthew Simmonds) | 1:31 | Active | 3.2 | | 2021-11-28 |
| Agony Hiscore Music | Mantronix (Martin Wall) , Tip (Robert Österbergh) Phenomena | 1:23 | Active * | 3.1 | | 2022-12-19 |
| Agony Mountain | Nuke (Martin Iveson) | 0:44 | Active * | 2.9 | | 2023-04-22 |
| Agony Screams (a.k.a. "It's So Cool!") | Lizard [se] (Magnar Harestad) | 2:11 | Active * | 3.8 | | 2023-08-05 |
| Agony Sea | Mantronix (Martin Wall) , Tip (Robert Österbergh) | 1:57 | Active * | 3.1 | | 2023-01-18 |
| Agony Title (original author version) | Tim Wright | 4:22 | Active | 3.3 | | 2023-01-23 |
| Agony [end title] | Mantronix (Martin Wall) , Tip (Robert Österbergh) | 1:45 | Active * | 3.8 | | 2023-07-08 |
| Agony [mountains level] | Mantronix (Martin Wall) , Tip (Robert Österbergh) | 1:26 | Active | 2.9 | | 2023-06-18 |
| Agony [Sea Level] | Mantronix (Martin Wall) , Tip (Robert Österbergh) | 1:48 | Active * | 3.6 | | 2023-09-03 |
| Agony [volcano level] | Mantronix (Martin Wall) , Tip (Robert Österbergh) | 1:15 | Active * | 2.5 | | 2022-08-20 |
| AGRESSiON keygen #1 | LHS | 1:01 | Active * | 3.6 | | 2023-09-17 |
| Agrometrical Dream 2 | Rainbow (Ola Ljungars) Cytax | 4:37 | Active * | 3.0 | | 2022-12-24 |
| Ahdasmielinen Jami | Ale (Tommi Vaikkinen) | 2:35 | Active * | 2.3 | | 2022-10-20 |
| Ahoin Antimet | Mc Hal (Mika Halonen) | 3:44 | Active * | 3.1 | | 2023-07-29 |
| Aholaita Samba | Yzi (Yrjö Fager) | 1:22 | Active * | 2.9 | | 2023-01-16 |
| Aiduno | Busy Brain (Patrice Henry) | 3:22 | Active * | 3.4 | | 2023-07-07 |
| Aigua Blava | Okeanos (Olivier Degand) The Electronic Knights [TEK] | 3:07 | Active | 3.7 | | 2023-01-07 |
| Air | Unknown | 1:21 | Active * | 2.8 | | 2023-08-31 |
| Air by Land | Azazel (Markus Alakangas) | 3:51 | Active * | 3.4 | | 2022-07-16 |
| Air Freedom 2 | Frog (Timm Engels) | 2:45 | Active * | 2.2 | | 2023-08-23 |
| Airline | Dr. Awesome (Bjørn Lynne) | 2:03 | Active * | 2.4 | | 2023-08-27 |
| Airline1 ingame | Dr. Awesome (Bjørn Lynne) | 2:07 | Active | 3.4 | | 2022-03-30 |
| Airline2 ingame | Dr. Awesome (Bjørn Lynne) | 1:47 | Active | 3.5 | | 2023-02-11 |
| Airline3 ingame | Dr. Awesome (Bjørn Lynne) | 2:18 | Active | 3.2 | | 2023-02-03 |
| Airwaves | Wiklund (Alexander Wiklund) | 2:24 | Active * | 3.9 | | 2023-04-03 |
| Airwolf | Lizardking (Gustaf Grefberg) | 0:30 | Active | 3.8 | | 2023-09-23 |
| Aivoryy | Møkkamannen | 2:26 | Active | 2.1 | | 2023-09-03 |
| Ajatusbuusteri | Yzi (Yrjö Fager) Fit | 1:18 | Active * | 3.3 | | 2023-03-25 |
| Akai Patch Kids | Hollywood (Simon Carless) , SuperNao (Michiel Krop) | 3:06 | Active * | 2.2 | | 2023-06-11 |
| Akalaila | Moog [fr] (Guillaume Labussiere) | 1:25 | Active * | 3.1 | | 2023-04-25 |
| AkeGames.GameTune | Paokala (Aleksi Sahala) | 1:32 | Active * | 2.3 | | 2022-07-07 |
| AkeGamesIntroTune | Paokala (Aleksi Sahala) | 3:18 | Active | 1.8 | | 2023-07-10 |
| AKE_4LEM | Paokala (Aleksi Sahala) | 2:30 | Active * | 3.0 | | 2023-05-08 |
| AKE_4LIV | Paokala (Aleksi Sahala) | 1:08 | Active | 2.6 | | 2022-08-21 |
| AKE_4MOD | Paokala (Aleksi Sahala) | 1:37 | Active * | 2.8 | | 2023-05-17 |
| AKE_4MUS | Paokala (Aleksi Sahala) | 2:30 | Active * | 2.4 | | 2023-03-02 |
| AKE_4SLE | Paokala (Aleksi Sahala) | 1:49 | Active | 2.8 | | 2023-05-02 |
| Akufunktio | Mice (Mikko Ahola) | 2:45 | Active * | 3.8 | | 2023-08-10 |
| Al Unser Jr - Arcade Racing Fast | Moby (Frédéric Motte) | 3:12 | Active * | 2.6 | | 2023-07-03 |
| Alacrity | Jellybean (Vegard Myksvoll) | 3:09 | Active * | 3.7 | | 2023-08-05 |
| Alarm in the Mind | Corrosion (Patrizio Casalengo) | 3:27 | Active * | 2.1 | | 2022-11-05 |
| Alba-theme3 | Corrosion (Patrizio Casalengo) | 3:51 | Active * | 2.2 | | 2021-12-17 |
| Albrechts Revenge | Bernard Sumner (Phil Bak) Relay | 3:35 | Active | 2.2 | | 2022-06-09 |
| Alcatraz | Estrayk (Carlos del Alamo) | 0:40 | Active * | 3.8 | | 2023-04-17 |
| Alcoholic Score | Audiomonster (Raphaël Gesqua) Melon Dezign | 4:50 | Active * | 3.6 | | 2023-08-10 |
| Aldebaran short | Drj | 1:55 | Active * | 2.3 | | 2023-05-07 |
| Aleksis Kivi | Groo (Sami O. Järvinen) | 1:26 | Active | 1.4 | | 2023-08-04 |
| Alemus Hupus | Typhoon (Håvard Tørå Olsen) | 1:30 | Active | 3.0 | | 2023-07-18 |
| Alen(e) med venner | Outzider (Christer Børge Lunde) | 3:30 | Active * | 3.7 | | 2023-08-20 |
| Alert | MVO (Marc) | 2:51 | Active * | 1.6 | | 2022-07-16 |
| Alf | Bug (Stein Erik Giske) | 3:12 | Active | 3.5 | | 2023-08-20 |
| Alf-theme | Pink (Manfred Linzner) | 0:30 | Active * | 3.8 | | 2023-01-26 |
| Alfred Chicken - Bonus2 | TDK (Mark Alan Knight) | 1:09 | Inactive | 3.2 | | 2017-09-27 |
| Alfred Chicken - Credits | TDK (Mark Alan Knight) | 2:47 | Inactive | 2.9 | | 2019-06-17 |
| Alfred Chicken - Endgame | TDK (Mark Alan Knight) | 3:04 | Inactive | 3.6 | | 2018-12-10 |
| Alfred Chicken - Ingame1 | TDK (Mark Alan Knight) | 4:28 | Inactive | 2.1 | | 2019-02-26 |
| Alfred Chicken - Ingame2 | TDK (Mark Alan Knight) | 2:33 | Inactive | 3.0 | | 2019-05-21 |
| Alfred Chicken - Meka1 | TDK (Mark Alan Knight) | 0:35 | Inactive | 2.1 | | 2019-02-16 |
| Alfred Chicken - Radio1 | TDK (Mark Alan Knight) | 1:47 | Inactive | 2.5 | | 2018-09-09 |
| Alfred Chicken - Title1 | TDK (Mark Alan Knight) | 2:15 | Inactive | 2.6 | | 2019-05-24 |
| Algorhythmic | DeathJester (Joey Jaime) | 7:17 | Active | 3.7 | | 2023-06-13 |
| Algorhythmic [correct timing] | DeathJester (Joey Jaime) | 7:17 | Rejected * | 4.0 | | |
| Alibaba and the 40 Ravers | Wasp (Alex Löfgren) | 2:09 | Active * | 3.1 | | 2023-06-21 |
| Alice | Mad Phantom Cybernetix | 1:24 | Active * | 2.7 | | 2021-10-04 |
| Alice on Copper | Dascon (Bernd Hoffmann) , Virgill (Jochen Feldkötter) | 3:38 | Active | 4.2 | | 2023-08-17 |
| Alice [End] | Dascon (Bernd Hoffmann) , Virgill (Jochen Feldkötter) Lemon. , The Deadliners | 1:46 | Active | 3.5 | | 2023-06-29 |
| Alien Atmosphere | Dr. Awesome (Bjørn Lynne) | 2:59 | Active | 3.7 | | 2023-07-08 |
| Alien Breed | Allister Brimble | 4:14 | Active * | 4.2 | | 2023-09-28 |
| Alien Breed 2 - Title | Allister Brimble | 3:49 | Active * | 4.2 | | 2023-09-12 |
| Alien Breed 3D SE | FeekZoid (Paul Hannay) | 5:47 | Active | 2.7 | | 2023-06-28 |
| Alien Dream | Ramosa (Jacob Ramskov) Passion | 3:22 | Active * | 3.7 | | 2023-06-09 |
| Alien Encounter (1995) | Spiral (Mats Antonsson) | 3:00 | Active * | 3.6 | | 2023-05-01 |
| Alien Inspiration | Subject (Kristoffer Schultz) Passion | 2:43 | Active * | 3.7 | | 2023-09-22 |
| Alien Penetration | Lizardking (Gustaf Grefberg) | 3:04 | Active | 3.9 | | 2023-08-11 |
| Alien2 main1 | Muffler (Konsta Mikkonen) | 3:28 | Active * | 3.8 | | 2023-09-02 |
| Alien2 main2 | Muffler (Konsta Mikkonen) | 3:07 | Active * | 3.6 | | 2023-07-17 |
| Alienate | Yerzmyey Hooy-Program | 3:39 | Active * | 3.7 | | 2023-09-06 |
| Alienchip | Parsec (Federico Cito) | 1:47 | Active * | 3.2 | | 2021-08-02 |
| Aliens Ate My Socks | Whiskas | 2:49 | Active | 2.2 | | 2023-08-14 |
| Alison Project | Arpegiator (Fabrice Gillet) | 7:48 | Active | 3.9 | | 2023-07-13 |
| Alive | Unknown | 1:36 | Dupe | 2.9 | | 2013-10-14 |
| Alive | Doh (Nicolas Desessart) | 3:25 | Active * | 3.6 | | 2022-12-21 |
| Alive and Kicking | Hollywood (Simon Carless) | 1:01 | Active * | 3.8 | | 2023-09-18 |
| Alkoholikal Absolut | Muffler (Konsta Mikkonen) | 3:14 | Active * | 3.6 | | 2023-07-21 |
| All Be Free | Mr Young (Baptiste Boilet) | 2:21 | Active | 3.1 | | 2021-08-24 |
| All Day All Night | Jugi (Jukka Kaartinen) | 2:53 | Active * | 2.6 | | 2022-11-02 |
| All For Prodigy! | Archangel [NO] (Ronny Nilsen) | 2:21 | Active | 2.7 | | 2022-05-01 |
| All I Want For Xmas | Dalezy (Ronny Engmann) | 1:29 | Active * | 2.7 | | 2022-12-17 |
| All I Want for XmasSs is Chip | JosSs (José Manuel Pérez Paredes) | 2:55 | Active | 3.7 | | 2023-09-18 |